Santa Cruz Bail Bonds, established in 1936 is one of the oldest family ran businesses in Santa Cruz Today.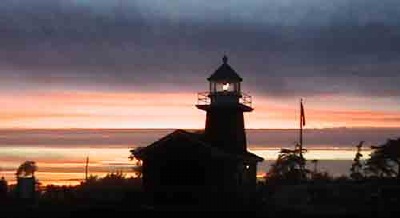 We are conveniently located to the left of the Santa Cruz County Jail on Water Street. "LITERALLY" right next door to the Jail less than 30 Seconds away!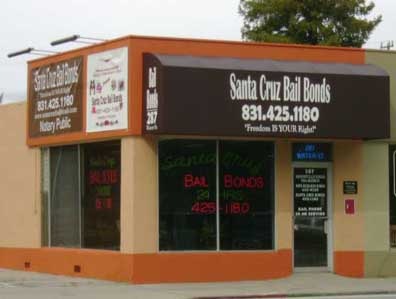 An Agent is ALWAYS available to take your call, any time day or night, 7x24, 365 days a year.

We understand when a situation arises and you need to contact a Bondsmen the last thing you want is to leave a message, or have the phone ring without an answer. Even worse, call a bondsmen with a local Santa Cruz phone number only to find out that bondsmen is located in San Jose, or Salinas making your wait longer.

At Santa Cruz Bail Bonds ALL of our agents live in our community, all of our agents are Santa Cruz County locals and ALL of our agents are available to take your call day or night! If we happen to be out of the office assisting another client and you happen to arrive during this time without a phone. There is a RED "Bail" phone conveniently located to the right of our door that will connect you with an Agent immediately!



We will never meet you at the jail; instead we invite you to our comfortable office, which is located less than a 30 second walk away from Santa Cruz County Jail! Our office was created with our customers in mind, offering a comfortable atmosphere with all the comforts of home during a time when you need it the most. Why wait for an out of town agent who says they are local but will keep you waiting for hours, maybe even longer before they can even get to Santa Cruz when we are so close to home. Using and out of town agent means the person in custody who you care for is waiting in locked up in jail watching Santa Cruz Bail Bonds clients being released. During the time you and your loved one are wasting by waiting for an out of town agent you, and your loved one, or friend could have already been released, and safely at home. Using Santa Cruz Bail Bonds insures knowledgeable Professional Agents, confidential, and quick paper work procedure, you don't have to wait for hours while an agent drives from San Jose or Salinas to get to Santa Cruz, and we understand this is your time of need. If you are not in our office, and some Agent is having you meet them at the jail to do your paperwork then it is NOT Santa Cruz Bail Bonds. To contact one of our Agents please Call 831.425.1180 any time day or night.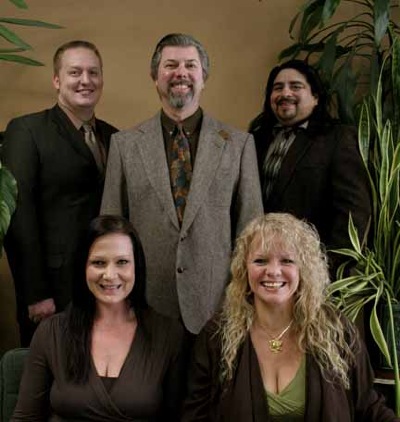 Upper Left - Agent Patrick

Upper Middle - Owner Jeff

Upper Right - Agent Joe



Lower Left - Agent/Office Manager Shamara

Lower Right - Owner Shannon

If you have questions please feel free to email us, however the quickest way to get a response is to give us a call!

At present, our web site is still a work in progress. However, we realize the importance of having bail bonds information available to our customers and our community. After all, when mistakes are made everyone deserves the benefit of having the best information presented to them when it's needed the most. As well as having a professional knowledgeable company on their side like Santa Cruz Bail Bonds.


Santa Cruz Bail Bonds has been a family owned and operated company since it's inception in 1936. We can be reached at 831.425.1180 and by fax at 831.425.1206. We are looking forward to hearing from you. You can also e-mail Jeff at: jeff@santacruzbailbonds.com.

Santa Cruz Bail Bonds is the ONLY Bail company located Right Next to the Santa Cruz County Jail less than a 30 second walk away!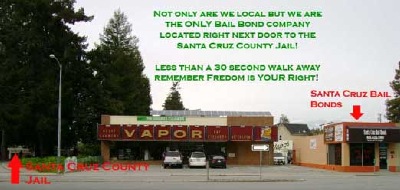 Located at 287 Water Street Santa Cruz, CA 95062

Click on the picture above for directions that are printable @ Google Maps!

If you are coming from Hwy 1 or 17, take the Ocean Street exit into Santa Cruz. Continue down Ocean Street until you come to Water Street, turn right at the 76 Gas station on on to Water Street. Santa Cruz Bail Bonds will be approximately a block down on the right. Just before Vapor's Cleaners, and the Jail.